Scanning and ArchivingWhat is it?
During a patient's visit, some documentation may be completed on paper and will be stored in the patient's chart. With the availability of MEDITECH's Scanning and Archiving (SCA) solution, the paper documentation can be scanned in to provide a complete electronic chart in either Point of Contact or Patient Record (batch) scanning.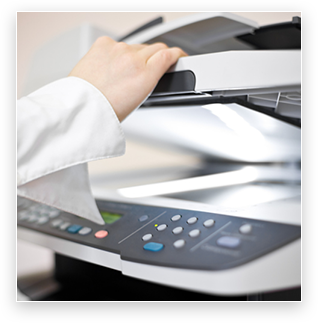 Learn more about software and hardware requirements for our Scanning and Archiving solution:
Scanner Requirements
Server Requirements
How can you get it?
Scanning functionality comes standard with all SCA installations. We encourage testing to begin immediately after applications training to ensure that the functionality is fully operational for LIVE. If you plan on using scanners and do not currently have a device, it is best to begin researching options after the intro call with your implementation specialist. This will allow for ample time to decide on a scanner.
What types of devices can be used to run it?
Find out how to access MEDITECH's Scanning and Archiving solution on a mobile device.
Where can you purchase mobility and peripheral devices?
Learn more about our preferred vendors, ACS MediHealth and The Steve Holmes Group LLC.
For more information about our collaborative solutions, please contact:
ACS MediHealth

David Dean, President
Office (Local): 1-770-751-1177
Toll Free: 1-800-488-3304, Ext: 115
Email: djdean@acs-ebiz.com
ACS MediHealth Device Information
The Steve Holmes Group LLC

Steve Holmes, CEO
Office: 1-508-536-5612
Email: steve@steveholmesgroup.com
The Steve Holmes Group LLC Website
Who can you contact at MEDITECH with questions?
Send us a message
if you have questions or would like to learn more about our Scanning and Archiving solution.