See Life at MEDITECH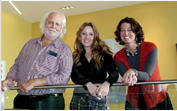 Browse photos to see what its like to be a MEDITECHer!
Useful Links
Employment Application
>> PDF Version
(Use this .pdf version of if you intend to first print out the application, then hand write your information.)
>> DOC Version
(Use this .doc version if you intend to fill out the application electronically, then print it out.)

Our recruiters thoroughly review each resume, and strive to contact each applicant individually by phone or mail within 2-4 weeks of receipt.